4K Projectors
Coming soon to ProjectorPeople.com: 4K projectors.
Featuring a 4096 x 2160 resolution, these ultra-high definition projectors have more than double the horizontal and vertical pixels of 1080p projectors.
Their display is even smoother and more lifelike than the best HD projectors on the market today. Colors are more saturated. Frame rates higher.
We've seen 4K in action. The display is so good; it's like looking through a window.
Sounds awesome, right? You want to buy four right now, right? Well, hold your horses. Finding a 4K projector or 4K content isn't an easy task.
At the time of this post, we have only one native 4K projector, the Sony VPL VW1000ES. It's an awesome projector, but the $25,000 price tag might put it out of your budget.
More manufacturers have 4K projectors in the works, our sources say. Like any technology, it's just a matter of time before it becomes widely available and more affordable. We will keep an up-to-the-minute list of all our ultra high definition products on our 4K projectors page.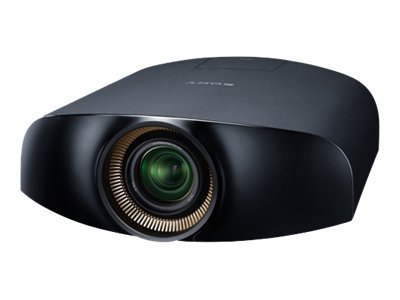 At the moment the only 4K projector available is the Sony VPL VW1000ES
We are confident that 4K will revolutionize home theater. But it's not yet a viable or affordable technology for most consumers.
Our sources say that they are hard at work building the technology that will enable large scale production of 4K content in the next few years. Once the kinks are worked out, 4K will be everywhere. But for now it's still at the early-adopter phase.
We remember HD and 3D's growing pains. Heck, even today you can only get authentic native 1080p content from a Blu-ray disc, but it's still the most popular resolution on the market today.
4K Projector Q&A
We asked some of our Facebook and Twitter friends what they wanted to know about 4K projectors. Here's a Q and A.
Where can I get 4K content?

We have two words for those looking for 4K content: Good luck. Kidding, kidding. Sony's new 4k digital media player comes pre-loaded with 10 movies and promises that more are on the way. There are also rumors that the Sony PS4 will serve as a 4K player and that Netflix is planning a 4K streaming service. But are these services and players native 4K content or just an upscaled Blu-ray? That's another question. There are only a few video cameras on the market today capable of filming 4K content, and they're not cheap.

Will 4K projectors require more lumens than HD or XGA projectors?

Lumens are lumens. They're measured by the projector's output and are not affected by image resolution. A 5,000 lumen XGA projector will be the same brightness as a 5,000-lumen 4K projector.

Will I have to buy new HDMI cables for my 4K projector?

Comprehensive assured us that all their current HDMI cables support 4K content.

When will they be less than $3,000?

Great question. We don't know, but we promise we'll keep you updated on all the latest developments. Follow us on Facebook and Twitter, or sign up for our newsletter, for all the 4K updates.
Stay up to date on 4K projector technology and releases
For the latest in 4K projector news, visit our blog»