Home Theater Projector Buyer's Guide: What to look for in a home projector
Every projector model has its own unique features with different specifications for different uses, so no single model will the best choice for every application.
Though TVs keep getting bigger in size, projectors give you the viewing experience of a movie theater with screens that are 100'' or larger. Whether you're looking for movies, sports, gaming, or a mix of entertainment, home theater projectors are the most impactful upgrade you can make for your room.
Below are the topics and features that will assist you when looking for home projector.
What are the different types of Projectors?
There are five main types of projectors on the market – DLP, LCD, Laser, LCOS, and LED.
DLP (Digital Light Processing – Texas Instruments)
It's one of the common types for a home theater. Produces sharp images, few users might notice a ''rainbow effect'' i.e. flashes of blue, green, and red particularly with scenes containing fast movement, when very bright areas move across dark areas in a video. It's weird, but it happens to most of them. You might want to watch a movie on DLP projector before you buy one. Overall, highly vibrant, Ideal for watching 3D movies and video games.
LCoS (Liquid crystal technology on silicon)
Hybrid between DLP and LCD type of projector. Offers darker black levels and high contrast ratio for Film-like images. They don't offer the same brightness as DLPs, they offer lower levels of light output and limited lamp life hours. However, they give high resolution, more natural and life-like images.
LCD (Liquid Crystal Display)
They are affordable, good for movies, almost the same price as single-chip DLP. Light efficiency as compared to DLP ones, produces brighter and vibrant images. Needs regular filter maintenance.
LED (Light-Emitting Diodes)
Bit pricey compared to other types. Not as bright as DLP but gives much longer lifespans of 20,000 hours or more compared to bulb projector. Also Red, blue and green LEDs replaces the projector's lamp. They're low maintenance and it works well only in a dark environment rather than ambient light room.
LASER
Gives brighter and sharper image. Lasts for 20,000 to 30,000 hours of light hours, does not dim over time. They are fast – with instant turn on and off, quiet operation.
Laser vs Lamp Projector: Which one should I go for?
Most of the home projectors come with either Lamps or lasers as their light source. Below is the overview of the comparison between these two projectors
Brightness in lumens: Laser gives more than 3500 ANSI Lumens, while Lamp gives over 2000 ANSI Lumens. As a result, Laser can be used in a room with bright ambient room, whereas the image would be challenging to see using Lamp in the same room.
Costs: The cost of Laser ones are more than the Lamp ones. Though Laser are pricier, it offers longevity to get money's worth over time. Also, it has gained popularity in the long run, eventually the costs will be reduced, and it would soon replace the lamps ones in the future
Power-up times: These two different projectors differ in their ability to turn on as fast as possible. It's like old days in school, when you wait for a minute or two for a projector to properly boot up. That's the lamp projectors which takes time to warm-up and cool-down periods before and after use. And now, laser ones give 'instant-on' advances that works instantly
Lifetime: Lamp life amounts to average 10,000 hours (Eco mode), whereas Laser gives 20,000 hours of life. So, the latter one not only lasts longer, but their performance is also more consistent over time. Lamps will dim after a while, laser-based projectors offer steady brightness that decreases at a much slower pace later.
Sustainability: Lamp projectors uses high-pressure mercury arc lamps that must be warmed up every time you power them. Laser projector has a benefit for their power efficiency, as they create the exact colors that are needed with focused energy and reduced heat dissipation. Needs lesser power to achieve the same brightness image when compared to lamp ones, thus good for your wallet and ecological footprint.
Noise: Laser and Lamp projectors make noise due to the spinning color wheel. The laser ones are louder than Lamp. You might want to weight the effect of noise against the other advantages of Laser projectors.
Conclusion: If you're looking for affordability, low use projector, comparable image quality and you're familiar with the color quality and performance, Lamp Projector is the one. Whereas, if you're looking for long lasting source of light, greater energy efficiency, low to no lamp replacement cost, go for Laser type.
How bright should my projector be?
Projector brightness is measured in ANSI lumens. Home theater projectors generally start out at about 1000 lumens and range upwards to 2500 lumens and more. How bright or dark is your room is the deciding factor on how many lumens your projector needs. For the best projector performance, try to reduce or eliminate the light in the room, be it daylight or room lights. Limiting your viewing to nighttime or installing blackout shades on the window also helps if you plan to use projector in a bright sunlight room.
Projector People recommends the following lumen outputs
Dedicated home theaters need 1000 lumens or brighter.
For rooms with some ambient light, look for a projector with atleast 1500 lumens
For rooms with high ambient light, look for a high brightness projector with atleast 2500 lumens
Tip: In many cases, manufacturers rate projector lumen values based on data output, not video. Lumen output for video is typically not as high as data. For help determining which projector is right for your viewing environment, contact one of our Projector Experts. They have personally seen most units perform in video mode.
What is a good resolution for home projector?
Resolution describes how clear a projected image will be based on how many pixels can be displayed on a given space. The more pixels on a screen, the better quality of the image will be.
Check the "true" or "native" resolution for looking for a home projector. Native resolution determines how sharp and detailed the image is.
Currently, HD (1920 x 1080), 4K UHD (3840 x 2160) & (4096 x 2160) are the most common home theater projector resolutions for watching movies or playing games.
For gaming, 1080p resolution works. Affordable gaming PCs, XboxOne, PS4 comes in 1080p as well. So if looking for affordability, this full HD should be fine.
For Sports, again 1080p Full HD is a good choice as the price of Full HD projectors and input devices are affordable. So if looking for lower cost sports viewing setup, this is the one.
For movie outdoors, having high-quality image is important (keep in mind, that it needs to be dark outside as sun being too bright for just any screen). 720p as well as 1080p works for a solid performance in an outdoor night setting.
When you wish to stream 4K content like Netflix, YouTube, Amazon, you would need a compatible device and a stable internet connection, so 4K projector would be the ideal choice.
Check out these 4K capable and UHD projectors to recreate a cinematic experience.
What is Throw Ratio of a projector?
To choose the ideal projector for your room, you'll need to measure the length/width of the room and use the maximum distance for the projector to be placed from the screen to see which specific projector model would fit. This is what Throw Distance & Throw Ratio comes into picture.
Throw distance is a projector's distance from the lens to the screen surface. Throw ratio is the width of the image relative to the throw distance. So if you see 2.0 throw ratio, it simply means for each foot of image width, the projector needs to be 2 feet away.
When you look at projector specs, you'll often see these names with the projector name/description – Ultra-Short throw, Short Throw & Long Throw projector associated with Throw Ratios/Throw Distance. Below are guidelines of projection ratios for reference (not hard rules).
Long-throw projectors: Throw ratio 2.5:1 and larger (100'' image from 18 feet and further). Used in large rooms, requires seven feet or more of available space. Perfect for large hall, concert visuals, house of worship, business, or outdoor projector.
Standard throw projector: Throw ratios 1.5:1 and larger (100'' image from 8 feet and further). Used in Home theater, often equipped with a zoom lens. If you have a large room, this could work for you.
Short-throw projector: Throw ratios – 0.38 to 1.4 (100'' image from 2.5 feet and 8 feet). As you can see, this can be much closer to the screen. If you're looking for big screen in a cozy room, this is ideal choice.
Ultra-Short throw(UST) Projector: Throw ratio – 0.37 and less (100'' image from 2.5 feet and less). This projector is extremely close to the screen. Generally used in education and business sector. Also useful for smaller homes or cramped space. It uses laser technology, works well in bright rooms, ideal for family spaces.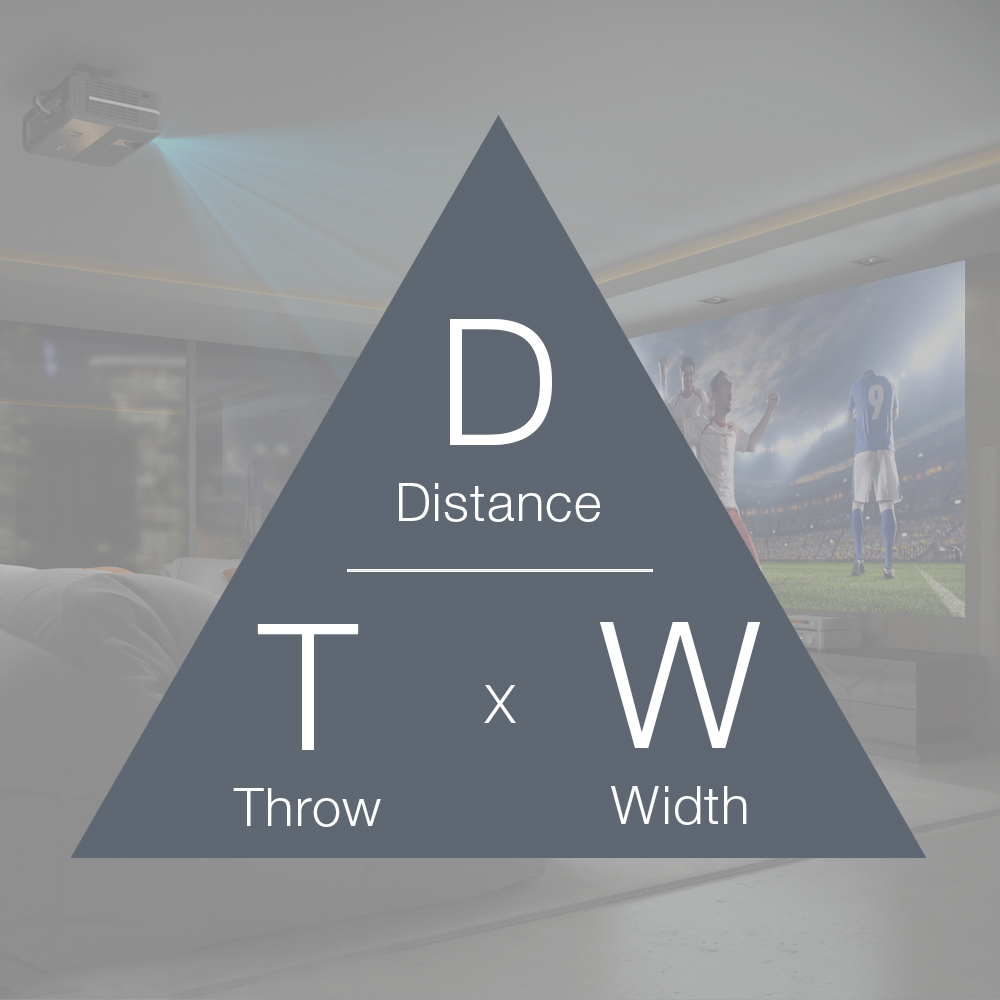 What is the good contrast ratio for a projector?
Contrast ratio is the ratio between the white or bright and black or dark portions of the images. It tells you how balanced the dark tones are with the light ones. A high contrast ratio makes it better without being too light or washed out. The contrast ratio of 2000:1 or higher is considered an excellent one. When you're in a darker room, 1500:1 works as well to get you a clear picture.
However, A projector with a contrast ratio of 10,000:1 isn't necessarily five times better than one with a 2,000:1 ratio. The contrast ratio does not account for how the projector displays all the shades of grey in between the blackest black and whitest white. If the projector can't display those shades of gray, portions of the image will "blow-out" and appear pixilated when displayed on the big screen. Look for projectors with more control settings. Multi-color processing technology like Brilliant Color and sRGB modes will allow you to really tweak the projector's display to your liking.
Another important thing to note is that some manufacturers are much more conservative with their contrast and lumen specs than others. While you might be tempted to choose the projector with a 1,000,000:1 contrast ratio over another with a 100,000:1 contrast ratio, the visible difference in person may be quite negligible. Our projector experts have seen many of the projectors we sell demoed at our office...if you have any questions, we encourage you to reach out for assistance. We're here to help!
What is native aspect ratio of a projector?
A projector's aspect ratio refers to the ratio between its width and height.
For example, a 4:3 display produces an image that is more square, where a 16:9 ratio produces an image that is more rectangular in shape.
The three most common video projector aspect ratios are 4:3 (XGA & SXGA), 16:10 (WXGA & WUXGA) and 16:9 (standard HDTV, 1080p). 4:3 was the official standard for US films, broadcast television as well as computer displays. 16:10 aspect ratio is used in business and education primarily. While this is a popular aspect ratio for laptops and monitor market, 16:9 is being widely used in home projectors.
Should I install my projector or set it on a tabletop?
Each of these options has its own advantages.
Ceiling Mounting
Ceiling mounting your projector will get it out of the way, creating a more polished look for your viewing area while also keeping your projector secure. Mounting the projector in a fixed area will also save you the time of setting up your projector for each use.
If you plan to ceiling mount your projector, you will need to know the fixed distance between the projector and your screen. As mentioned before, check the throw distance/throw ratio of a projector.
Tabletop Projection
Most video projectors weigh less than 20 pounds and are easy to transport from location to location. That means you can take your 'big screen TV' with you to the homes of friends and family, or host an outdoor movie projected on the garage door without any heavy lifting. If you decide that tabletop projection is right for you, consider a projector with less fan noise. Aim for around 30dB or less for 'whisper quiet' fans. You may also want to consider the overall product's exterior design since the projector will be visible.
Quick Tip: Projector People recommends that you purchase your projector before purchasing a screen. Install your projector first, start it up, and then decide which screen best fits your needs. This also gives you a chance to make sure the projector meets your expectations.
Mini projector vs Full size projector: Which one should I go for?
It depends on your preference, place, and investment. Mini Projector are small, portable, can take it with you anywhere for travel. Great advantage when you don't have much space. It's a cost friendly, some comes with a built-in rechargeable battery, some have a long-lasting lamp life. Consider getting a high-quality speaker to pair with it to improve the overall experience.
Shop for the portable projectors – great for backyard projector parties.
Whereas if you're looking for more image control settings, sharp and high-quality images with more contrast, consider a dedicated full-sized home projector. As they were designed for presentations or business use, they come with brighter and high-quality resolution images at the largest possible size for home use. In budget-wise, these projectors are becoming more affordable.
What streaming services can I use with a projector?
If you are looking for watching Netflix on your projector, look for a smart projector that functions like a computer where you can install apps like Netflix and other streaming services on the smart projector. For this, you don't need to connect any devices.
If you do not want a smart projector, there are other modern projectors that are equipped with Wi-Fi compatibility. Just connect to a Wi-Fi network, use streaming sticks to get Netflix. Roku and Amazon Fire TV Sticks are other options. Simply plug into the projector's USB port.
Chromecast devices is another option if you want to avoid adding cables to your setup. It plugs into the projector's HDMI port and is controlled with your PC/Android/IOS device.
If you are looking to connect a Blu-ray player, gaming console and HD cable box, look for a projector that comes with at least three HDMI inputs. Or if you do not want too many multiple cables, go for an HDMI Extender kit. This helps you to limit the number of cables that you would need to wireless connect your external devices. You can play games, watch DVDs and Blu-ray discs along with cable channels. This kit comes with a small transmitter which is plugged into the HDMI port on the content source.
Another option without streaming stick or HDMI kit to get Netflix on your projector? Use your laptop, Apple TV or Android get this content to the projector. You would need either USB/HDMI port for the projector without wireless connectivity. If it comes with wireless connectivity, you can stream the content/mirror the content if both devices are connected to the same Wi-Fi network.
What about 3D home theater projectors?
3D movies came back in a big way in the late 2000s, with James Cameron's Avatar leading the charge - wowing movie goers with its amazing immersion factor. Since then, 3D movies have been a staple at the movie theaters, and more recently, in the home. Today, they have become a common feature in most mid-range and higher home theater projectors. You can learn more about 3D projectors here.
3D projection may not be as big a deal today, but nearly all home theater manufacturers have 3D models. Many cable providers even offer 3D channels and programs.
Here are our most popular 3D projector models: Link
12. What are the other features to look for?
Zoom Ratio
It's the projector lens that allows you to increase or decrease the size of the projected image without moving the projector physically. Typically, you would find the zoom ratio at 1.2. Which means you can vary the image size 20% smaller or bigger. The range of the zoom ratio can go as low as 0.4 and as high as 2.1
It's advantageous to have a zoom lens to allow you to set up your device where you have no control of the screen size or projector placement. Especially in fixed installation projector, zoom lens gives you the flexibility to adjust the image. It also maintains the integrity of your image quality
Zoom ratio helps to fill in the gap if in case if something goes wrong or miscalculations with the throw distance and screen size. A large zoom ratio gives you a little more wiggle room, however there are chances chromatic error shows up sometimes in using too much zoom. A better practice is to follow the manufacturer's throw distance suggestions (that comes with throw distance chart) and measure before you mount.
Conclusion – Again it's advantageous to go for zoom ratio that can go lower than 0.4 and higher than 2.1 depending on how much money you're willing to spend on a zoom lens.
Lens Shift
For some reason, if you couldn't get the perfect mounting position for projector and screen, some projectors like DLP, LCD and nearly all LCoS types comes with Lens shift feature. It allows you to slightly move the lens left/right and up/down after it's been mounted to help you perfectly fit the projector's image on the screen without hurting image quality. A projector with lens shift can make an adjustment like this without requiring you to physically move the projector.
Keystone Correction
When you search your projector specs, you might come across this term – 'Keystone correction'. It corrects the distortion created when a projector is placed at an odd angle from the screen. Some projectors can provide more correction than others, including some which can correct for both vertically and horizontally skewed images. While it's a handy feature for road warriors and other portable projector users, it does not produce an ideal picture quality. Scaling inside the projector creates a slightly distorted image, particularly at the sides of the screen. In a long-term installation, lens shift is preferred to keystone correction.
Quiter Fan – Low Noise Projector
Home theater projectors are stuffed with moving parts like cooling fans, color wheels, and more. To determine how quiet or noisy a home projector is, depends on where your place is placed and your noise tolerance. Also depends on projectors with the lamp power set on high and lower power mode. Most of the projectors produce about 30 or 40 decibels of noise, some units are even less. That's like whisper quiet. Whatever audio you play over the projections, you basically won't hear much from the projector noise. Again, most of the manufacturers specifies their noise dB level on their product specifications to determine which suits you. What connectors does a projector have?
What connectors does a projector have?
HDMI, DVI-D, VGA, DisplayPort, USB, Component Video, Composite Video, BNC and more.. For more information on deciphering the cables and connections on a projector, check out this link.
We hope that these inputs will assist you in narrowing down your options. For further assistance/recommendations, check out our good, better, best expert recommendations from our projector experts who have done a lot of the research for you or call us at 1-888-248-0675.